July 12, 2013 • Nancy Wolfson-Moche
---
At sunrise I left to spend the weekend with a great vegetarian cook. I packed my breakfast in my tiffin carrier and I was off.  Stay tuned for recipes from a master….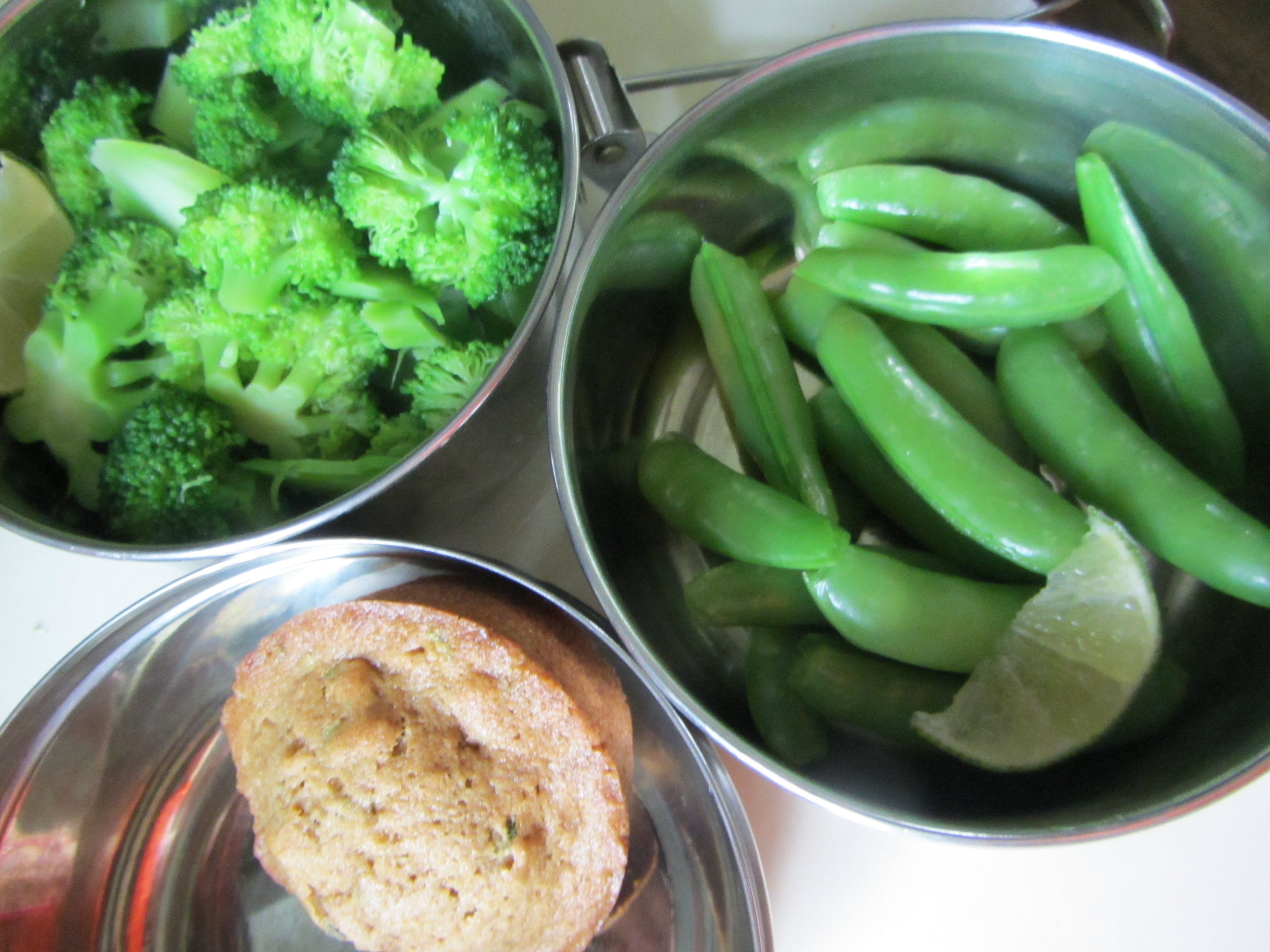 l
Serves 1
blanched snap peas and blanched broccoli
INgredients
1/3 pound snap peas
1 broccoli stalk, with flower
½ lime, cut into two sections
pinch sea salt
Process 
Wash well and clean snap peas and broccoli.
Cut broccoli into bite-sized pieces.
Bring a medium sized pot of water to a roiling boil.
Add pinch of sea salt.
Drop snap peas into boiling water.
When they float on the surface they are ready (this should take 30 seconds or less).
Remove them with mesh skimmer and place in tiffin carrier with a lime slice.
Bring water to roiling boil again.
Add broccoli pieces.
It should take 1-3 minutes for them to rise to the water's surface.
When they do, remove with mesh skimmer and place in tiffin carrier.
Garnish with slice of lime.
zucchini muffins
Makes 6
Note: you can make these the night before. They will keep in a tin for 3-4 days.
INgredients (all organic whenever possible)
¼ cup organic grape seed oil plus extra for painting muffin cups
3 Tablespoons brown sugar
¼ cup brown rice syrup
1 egg, lightly beaten
1 tspn vanilla extract
¼ tspn baking soda
¼ tspn ground cinnamon
¼ tspn sea salt
1/8 tspn baking powder
¾ cup organic whole wheat or spelt flour
1/3 cup chopped walnuts or pecans
generous 1/2 cup shredded zucchini
Process
Preheat oven to 350.
Brush extra grape seed oil into muffin tins.
In a mixing bowl, combine oil, sugar, rice syrup, eggs, vanilla, baking soda, cinnamon, sea salt, baking powder.
Mix until ingredients are blended.
Add flour; mix until moistened.
Stir in nuts and zucchini.
Spoon batter into greased muffin tins, filling them about half way (or less).
Bake for about 25 to 30  minutes, or until muffins test done (when toothpick comes out clean).