January 29, 2017 • Nancy Wolfson-Moche
---
Eating rice in the morning is comforting. Rice is a whole grain that doesn't overwhelm: not in taste, presentation nor preparation. Here, the cauliflower assumes the size and texture of rice. While the sweet bitterness of this brassica may wake up your taste buds a tad more than real rice, the dish's perfect balance of grain (corn), vegetable (cauliflower) and protein (pumpkin seeds) satisfies appetite and spirit.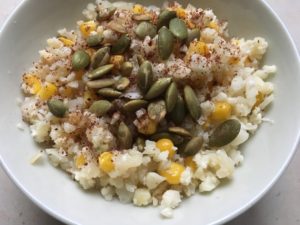 INgredients to serve 4-6
1 head organic cauliflower
1-2 Tablespoons EVOO
1 teaspoon sea salt or lemon sea salt
1 cup fresh or frozen corn-off-the-cob
1 teaspoon sumac (optional)
3 Tablespoons pan-roasted pumpkin seeds
fresh-ground pepper to taste (optional)
Process
Preheat oven to 350°F.
Line a baking pan or sheet with parchment paper.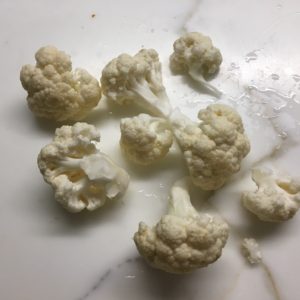 Wash the cauliflower well by immersing it in a bowl of cold water with a splash of vinegar for about 10 minutes.  Cut or tear it apart into smaller floret sections.
Use a chef'n veggie chop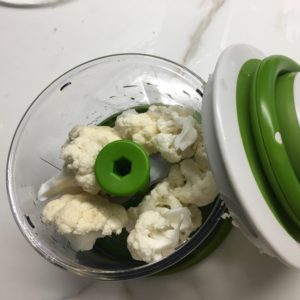 to chop the cauliflower into tiny pieces the size of grains of rice. You may also use a food processor, but I am partial to this hand-powered mincer that allows you to watch the florets pulverize in a matter of minutes. You may have to process it in two or three batches.
When the cauliflower has been transformed into the texture of rice or couscous, remove it and transfer it to a large bowl. Add the corn. Stir in the oil and 1 teaspoon of lemon or sea salt until well combined.
Place the moistened "rice" and corn in the prepared baking pan and bake for 15 minutes. Mix with a wooden spoon and continue to roast for another 15 minutes, until the "rice" begins to turn a golden brown.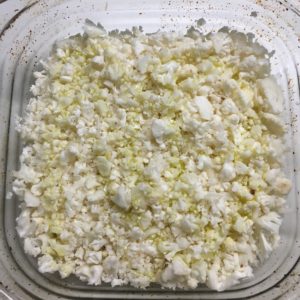 Garnish with the dried sumac (a citrus-based middle eastern spice) and roasted pumpkin seeds.
Serve warm or at room temperature.
©Nancy Wolfson-Moche 2017