August 31, 2020 • Nancy Wolfson-Moche
---
Winter squash and apples ripen right about this time of year, and people begin wondering what to cook with all this abundance.  Bake spicy, moist muffins infused with the flavors of fall: cinnamon, cloves and nutmeg.  I used kabocha (buttercup) squash for these; you may also use butternut or acorn squash.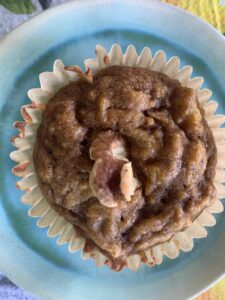 Ingredients to make a dozen
DRY
1 cup spelt, all-purpose or gluten-free flour
1½ teaspoons baking powder
1 teaspoon ground cinnamon
½ teaspoon fine sea salt
¼ teaspoon ground nutmeg
¼ teaspoon cardamom
¼ teaspoon ground cloves
WET
¼ cup grapeseed oil
¼ cup maple syrup
1/3 cup dark brown sugar
2 eggs
½  teaspoon vanilla extract
1 ¼ cups steamed and mashed kabocha (buttercup) squash; butternut or acorn work too
1 cup grated apple
¼ cup chopped walnuts (optional)
Zest of one orange (optional)
Process
Preheat oven to 350°F.  Line muffin tins with paper wrappers.
Sift flour, baking powder, baking powder, cinnamon, salt, cardamom, cloves and nutmeg into a medium-sized mixing bowl.
Beat the oil, brown sugar and maple syrup in a large bowl until well integrated. Add the eggs, one at a time, beating well after each addition. Add the vanilla. Fold in the squash, grated apple and walnuts (if using). Add the dry ingredient mixture.
Spoon the batter into the muffin cups or papers, filling them about halfway.
Bake for 25-30 minutes, until a fork or toothpick inserted into the center of the muffin comes out clean.
Allow to cool and serve.  Sprinkle with orange zest if desired.