December 30, 2020 • Nancy Wolfson-Moche
---
This hill of beans is worth heeding. For at least 1500 years black-eyed peas have been traditional New Year's fare. West Africans, Jews, Caribbeans and Americans in the southern states eat them on the first day of the year as a symbol of good fortune, prosperity and abundance. They may symbolize coins, or each bean may represent one day of the year to come.
Though called a pea, it's actually a bean. Also known as cow pea, southern pea and crowder pea, this humble legume packs protein, fiber, iron, B1 and folate. Thought to have originated in West Africa in the second millennium BCE, these ancient beans grow well in poor, sandy soil and are also known as "poor man's meat."
I found this Buddha's hand (below, left) at Butterfield Market in New York City. Also called "the fingered citron," it has little or no juice; you eat the mildly floral zest. It is the perfect flavor for this dish because the fruit seems to pray for a year of healing, realignment and a new kind of zest. Yes, please.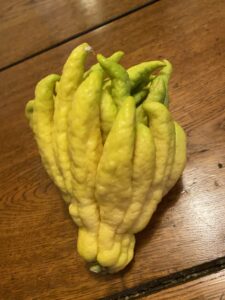 Ingredients to serve 4
1 cup dry black eyed peas or 2 cups canned
one inch-long piece kombu or kelp (if using dry black eyed peas)
1-2 stalks fresh celery
For the dressing
3 tablespoons pomegranate molasses
1 tablespoon brown rice vinegar
juice of 1 lime
1 teaspoon brown rice syrup
1 teaspoon very creamy tahini (I love soom)
zest of a citron or Buddha's hands or lemon
Sprig of rosemary or mint (optional) for garnish
Process
Soak the black-eyed peas in warm water for 2-12 hours. Drain them and place in a heavy pot with a lid. Pour water over the beans to cover, with an extra 2-3 inches in the pot. Add a postage-stamp-sized piece of kombu (kelp). Bring the beans to a boil, cover the pot and turn the flame down to a simmer. Cook the black-eyed peas for about 60 minutes, until they are tender. Note: if you use a pressure cooker, the beans will cook faster, in 30-40 minutes. The longer they've been soaked, the shorter the cooking time.
While the beans cook, make the dressing: whisk together the pomegranate molasses, brown rice vinegar, lime juice, brown rice syrup, tahini and citron zest. Set aside.
Allow beans to cool and spoon them into a festive glass or ramekin.
If you are using canned beans, take them out of the can and rinse them; then spoon them into a festive serving vessel like a martini glass or ramekin. Wash and trim the celery. Mince it into tiny pieces.
Sprinkle the minced celery on top of the beans.
Pour the dressing on top of the black-eyed peas and celery.
Garnish with a sprig of rosemary or mint if desired and serve with rice, polenta or risotto and greens.
Happy New Year!