December 14, 2020 • Nancy Wolfson-Moche
---
Atypical latkes in an atypical year. Red lentils because they start out pinkish red and become yellow when cooked. Spiralized zucchini because 2020 showed us how things can spiral. It certainly did. Combined, these ingredients make a tasty latke, a harbinger of days to come.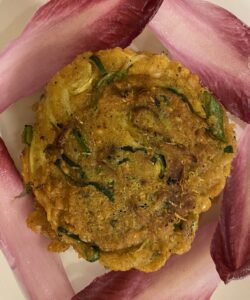 Makes about 12, inspired by a recipe from bon appétit
Ingredients
1 cup red lentils
1 medium zucchini (about 5 ounces)
½ medium leek, finely sliced
1 ¾ teaspoons kosher salt, plus more to taste
½ teaspoon chili powder or ¼ teaspoon cayenne pepper
¼ teaspoon ground turmeric
1 cup parsley or basil leaves with stems
1 tablespoon lemon zest
1 cup grape seed or safflower high heat oil (for frying)
 Process
Rinse lentils, then soak in 2 cups water at room temperature for at least 1 hour or overnight. The  longer you soak them, the more plump and soft they will become, making them easier to blend.
Trim ends of zucchini and use the smallest grade on a spiralizer to spiralize them so they are spaghetti-like. Place spiralized zucchini in a colander set in a bowl. Add the sliced leeks and 1 tsp. coarse sea salt to the colander and mix well. Let zucchini and leeks sit until they look wilted and some liquid has released, for anywhere from 30 minute to two hours. You may want to do this while the lentils are soaking. Use a white cotton towel (I use a floursack towel but any thin towel will do) to pat dry to remove any excess moisture. This will prevent soggy latkes.
Drain the lentils and place in a food processor. Add chili powder, turmeric, and ¾ teaspoon sea salt. Pulse until a purée forms. Transfer to a medium bowl and add zucchini and leek mixture, parsley, and lemon zest. Toss well with a rubber spatula to combine. It may look like a disproportionate amount of vegetables for the lentils, but that's a good thing.
Heat a medium to large cast-iron or stainless steel skillet over a medium-high flame until you can feel the heat when you hold your hand over the pan. Add enough oil to cover the bottom and heat it up until a small amount of batter added to it sizzles. Drop about ¼ cup of the latke batter into the oil, then flatten it with the back of a large metal spoon dipped into the hot oil to prevent sticking. Fry until it is a deep golden brown around the edges, after about 3 minutes. Turn with a spatula and continue to fry until deep golden brown on the second side, about 3 minutes more. Transfer pancakes to a brown paper bag or a wire rack set in a paper towel or brown bag-lined baking sheet to drain. Season with a little bit of sea salt. Repeat with remaining batter; you should have 10-12 pancakes.
Serve with applesauce, sour cream or lemony cashew yogurt sauce.