November 24, 2020 • Nancy Wolfson-Moche
---
My father has a favorite oversized cookbook called Italy Today: The Beautiful Cookbook by Lorenza de' Medici. Published in 1997, the section called Le Verdure (Vegetables) has some simple, wonderful recipes, like Sedano Rapa al Balsamico, the one that inspired this post.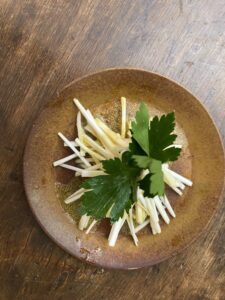 Paired with polenta, this root vegetable salad is just the thing to eat on Thanksgiving morning, before a celebration that will look different for most of us this year. In addition to being grounding and an antioxidant that is slightly diuretic, celeriac is packed with fiber, Vitamins B6, C and K along with phosphorous, potassium and manganese. It is important to have fiber in your system before feasting. This salad gets even better on the second day, so it's a fab companion to Thanksgiving leftovers.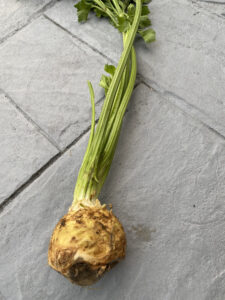 Ingredients to serve 4
1 lb celery root, with stalk (if possible)
juice of a lemon
scant ¼ cup extra virgin olive oil
2 tablespoons apple cider vinegar
1 teaspoon Dijon mustard
a few pinches sea salt, to taste
Process
Peel the celeriac and cut into thin matchstick-sized pieces.
Fill a bowl with cool water and add the lemon juice.
Place the celeriac matchsticks in the lemon water to maintain their light color and prevent from browning.
In a small bowl, whisk together the mustard, cider vinegar, sea salt and olive oil. Drain the celeriac and pat dry with a cotton floursack towel.
Place in a bowl and drizzle with the oil and vinegar mixture.
Mix and serve. Garnish with celery leaves.
Note: this dish can be made the night before and served in the morning.