September 15, 2019 • Nancy Wolfson-Moche
---
Eight days from the autumn equinox, and summer is still in the air. If you garden in the northeast, you know that growing sweet melons doesn't come easy. They need a string of long, hot summer days to fully mature. They might still be mini-melons come September. If you can't harvest them by September's end, you compost them and vow to try again next year. If all systems fired this year and you now have perfectly ripe melons, make this late-summer breakfast soup now! You can make it the night before and serve it with a piece of sourdough bread, steamed and topped with tahini, or with a corn muffin.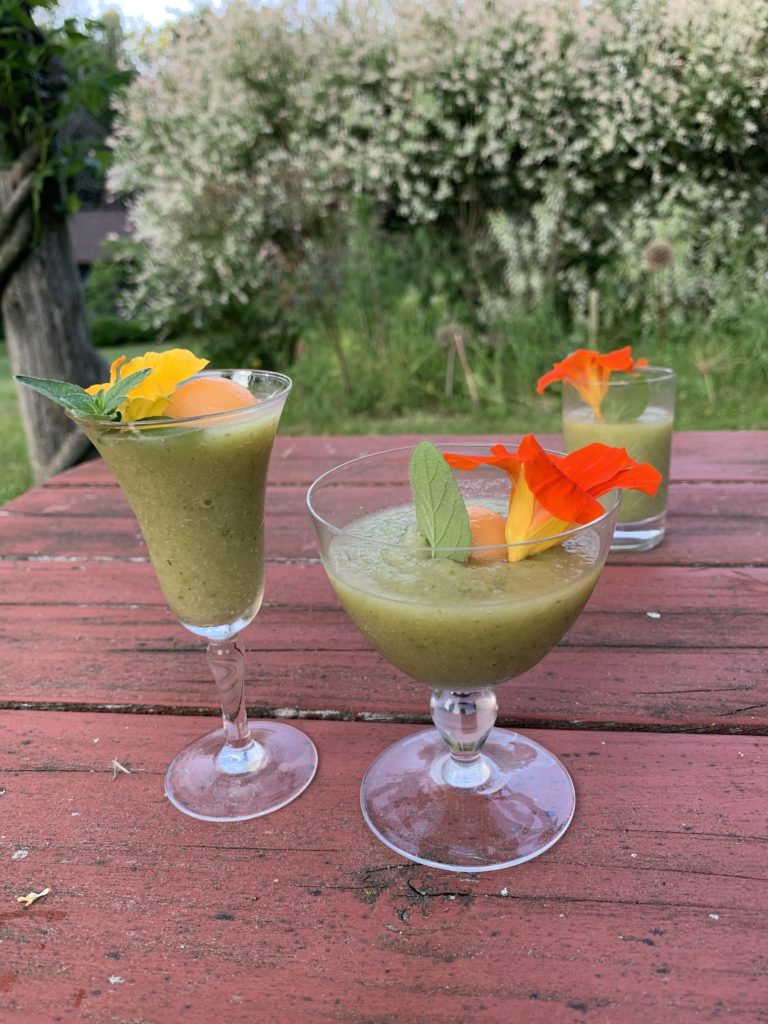 INgredients
to serve 4-6
1 small to medium ripe honeydew melon
2 Persian or one large hothouse cucumber, seeded
6 ounces organic whole milk yogurt, goatgurt or vegan coconut yogurt
Pinch sea salt
Freshly ground white pepper (to taste, if desired)
6 sprigs fresh mint (4 in soup and 2 for garnish)
6 basil leaves
½ cantaloupe, for garnish
6 chives, for garnish
1 lime
Process
Cut the honeydew melon in half.
Remove the seeds. Chop the flesh into large bite-size pieces.
Peel and seed the cucumber and then chop the cucumber into similarly sized pieces.
Use a blender or Vitamix to puree the honeydew, cucumber, yogurt, sea salt, 4 of the mint sprigs, basil (if using) and pepper until smooth. If pressed for time, add a few ice cubes to the blender.
Transfer to a large glass jar or bottle and refrigerate for at least 3 hours.
Use a melon ball scoop to form balls from the cantaloupe flesh and set aside.
Chop the remaining mint or leave it whole (for garnish) and set aside.
Pour the soup into individual festive glasses and add a generous squeeze of lime juice. Garnish with the melon balls, nasturtium flowers, fresh mint, basil, and chopped chives.