May 17, 2019 • Nancy Wolfson-Moche
---
The full moon of May will rise tomorrow, May 18th. Native Americans called it "Flower Moon" to recognize the myriad of flowers blooming in the northern hemisphere. This riff on pizza celebrates local edible flowers: broccoli, purple cauliflower and yellow kale flowers; as well as flower lookalikes Brussels sprouts, mustard greens, oyster mushrooms, parsley and pearl onions. Arrange them on a chickpea pizza crust and you get a full moon breakfast arising.
INgredients
For the crust
1 ½ cups chickpea flour
1 cup 00 or bread flour, plus more for rolling (bread or 00 flour renders a crisper crust; if not available use all-purpose for a chewier crust)
1 envelope dry yeast
2 teaspoons coarse sea salt
1 1/2 cups water, 110° F
2 tablespoons olive oil, plus 2 teaspoons
Suggested Toppings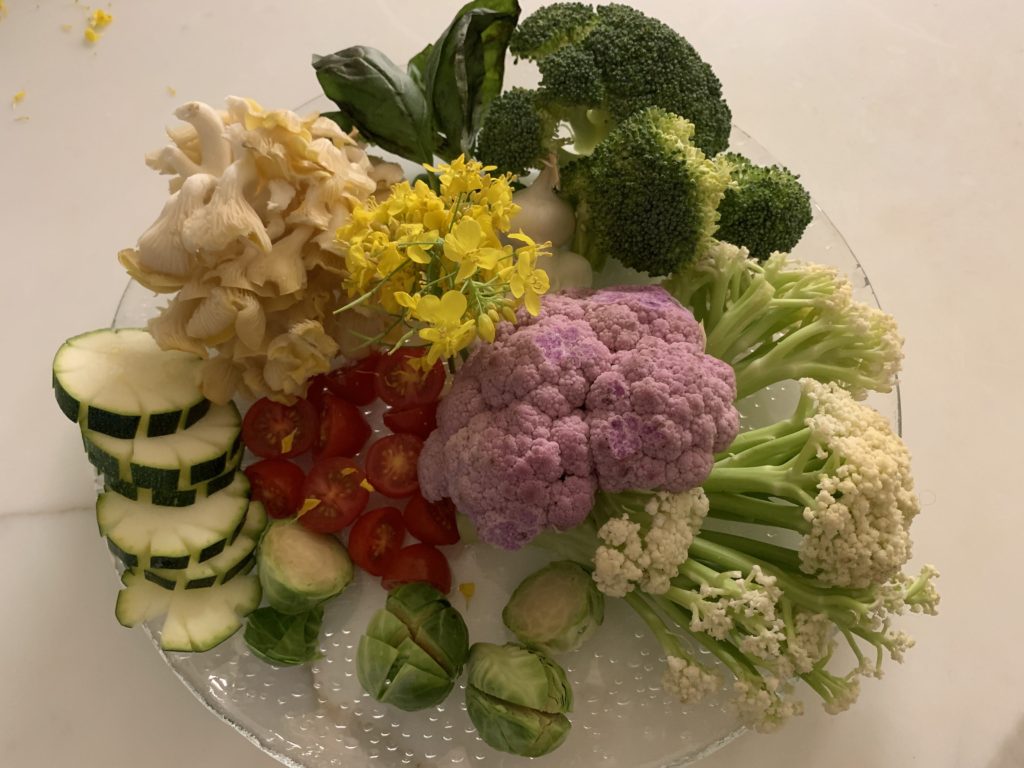 (flowers)
1 head fresh broccoli, chopped
1 pink, white or green cauliflower
kale flowers
any edible flowers (viola, nasturtium, etc)
(flower-shaped vegetables)
6-7 Brussels sprouts
5-6 pearl onions
1 zucchini
(herbs)
basil leaves, chopped or torn
oregano leaves, chopped or torn
parsley leaves, chopped or torn
(fruits)
grape tomatoes, halved
(proteins)
crumbled tofu
grated parmigiana, asiago and/or mozzarella cheese
(fungi)
3-4 large oyster mushrooms
Process
Combine the chickpea flour, 00 (or bread) flour, yeast and kosher salt in a glass or ceramic bowl.
Gradually add the water and 2 Tablespoons of the oil, one tablespoon at a time, until the dough comes together into a ball. If dough feels dry, add additional water, one tablespoon at a time. Scrape the dough onto a lightly floured surface and gently kneed into a smooth, firm ball.
Grease a large glass or ceramic bowl with the remaining 2 teaspoons olive oil. Then add the dough, cover the bowl with a damp white cotton towel (I use flour sack towels) and place the bowl in a warm area to let it rise.
After about 45 minutes it should double in size. Note: if you're rushing, 20-30 minutes will suffice. The dough will not double in size, but it will expand enough.
Turn the dough out onto a lightly floured surface and divide it into 4 equal pieces.
Preheat the oven to 425°F.
Work on a floured surface with a rolling pin to flatten each dough ball to form an 8-inch circular pizza.
Transfer the dough onto a slightly oiled baking sheet (or onto a dry pizza stone.) Bake for about 2-3 minutes, until crust is light golden brown.
Add desired toppings, leaving a 1-inch border around the edge. You may drizzle a bit of olive oil on the top.
Bake at 425°F until the crust's edges are golden and the toppings are sizzling, for about 10-15 minutes.
Serve warm.