October 27, 2021 • Nancy Wolfson-Moche
---
Some people have a way of gently encouraging you to do better. @christinamalleos is one of those people. A few months ago she asked me to make a vegan sugar-free rainbow cake! That was neither in my wheelhouse nor on my bucket list, but I took the plunge. And it was gorgeous.
Yesterday she asked to make a cabbage puree. To be honest, I wasn't all that jazzed about making it (I like my cabbage crunchy). I added zucchini to make it greener and cauliflower to make it thicker and creamier. What emerged was a delicate, silky green mash that mirrors the clean pillowy quality of the small intestine. The contents and soft texture of this dish will ease digestion and support the digestive organs. It looked gorgeous… and tasted a little bland. So I topped it with some quick-sautéed scallions and that took the dish to a whole new level.
I named it "cabcauzu" (an acronym using the first letters of each ingredient) after lovely, wise Christina who inspired this dish.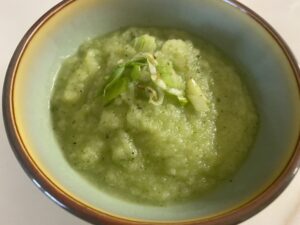 Ingredients to serve 4
½ head of cauliflower
1 medium-sized zucchini
6 Napa cabbage leaves
pinch of coarse sea salt
1 scallion
1 tablespoon extra-virgin olive oil
Process
Wash all the veggies.
Cut the cauliflower into bite-sized fleurets.
Cut the zucchini into discs; quarter them.
Rough-chop the cabbage.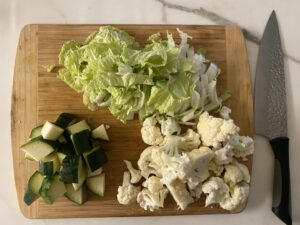 Bring a medium-sized pot of water to a boil. Add the cauliflower; wait about 30 seconds and add the zucchini; after another 30 seconds add the cabbage and a pinch of sea salt. Boil the veggies for about 4 minutes, until they are all soft but not mushy.
While the veggies are cooking, slice the scallion into thin ovals. Heat a stainless steel or cast-iron skillet on a medium flame; add the olive oil and allow it to heat gently for about 1 minute. Add the chopped scallion and gently sauté it until the pieces are a light golden brown. Set aside.
Use a wire-mesh skimmer or a slotted spoon to remove the veggies from the water. Keep the cooking water in a cup or bowl and set aside. Now return the veggies to the pot (with no flame) and add about 4 tablespoons of the cooking water. Use an immersion blender to purée the veggies together.   You may need to add a bit more of the cooking water to get the texture you want. I like a fluffy, light texture.
Serve warm in a bowl topped with the sautéed scallions. Pair it with rice, polenta or porridge.