July 1, 2021 • Nancy Wolfson-Moche
---
Noodle nori is my go-to breakfast – or lunch – these days. It satisfies. It relaxes. It is a whole meal rolled up in a shiny neat package. It contains vegetables, a sea vegetable, a plant protein (tofu) and two ferments (sauerkraut and umeboshi plum paste). It is handmade, rolled up and requires no utensils. It is colorful and bountiful and self-contained. And quirky. Yes, please.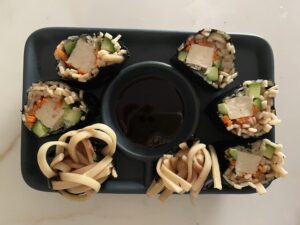 Ingredients   
 4-6 sheets toasted nori
1 9–10 oz package udon or soba noodles, boiled as per package directions
4 tbsp soy sauce (plus extra for dipping)
2 tbsp mirin (rice wine vinegar)
2 tablespoons pickled ginger
1 carrot, peeled in ropes or ribbons
4 tablespoons sauerkraut
1 cucumber, sliced lengthwise into long thin spears
2 scallions (optional), sliced into long strips
1 avocado, sliced into strips
4 tablespoons umeboshi plum paste, tahini or mustard
 grated daikon (if desired) for dipping
Process                                                                                                                                
In a large mixing bowl, combine udon noodles, soy sauce, mirin, and pickled ginger. Taste for seasoning and adjust.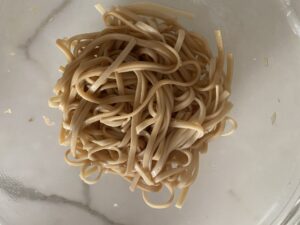 On a sushi mat, place one sheet of nori, shiny side down, matte side up, with vertical lines on the nori matching the vertical lines on the sushi mat.
On the center half of the nori sheet (leaving the bottom and top quarters empty of noodles), lay the noodles horizontally across the nori.
Spread your condiment of choice (ume plum paste, tahini or mustard) on top of noodles.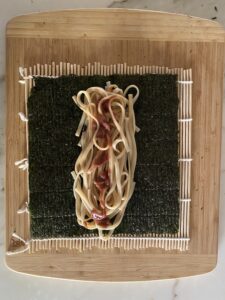 Then place the fillings: carrot ribbons, cucumber strips, avocado, sauerkraut, scallions and mango horizontally on top of the noodles.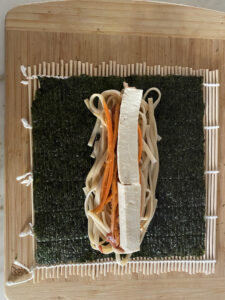 Dip your finger into a bowl of cold water and then slide moistened finger along the bottom edge of the nori sheet. Fold bottom piece of nori over noodles and press sushi mat. Then slide folded nori back to bottom of sushi mat and roll again, moistening the top of the nori with water to seal.
Slice in half or in several bite-size pieces.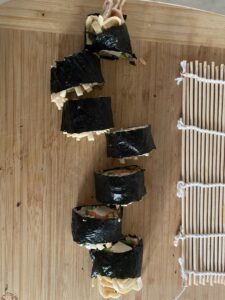 Serve with extra soy sauce and wasabi or grated daikon (if desired).