April 1, 2021 • Nancy Wolfson-Moche
---
Burgers. You've gotta love 'em. There's something irresistible about the form in addition to its content: a patty nestled into a bun, upgraded up with condiments.  I keep my veggie burgers simple. This super delicious one was conceived with ingredients I had in my Passover kitchen: navy beans, quinoa, onion and herbs. It was an instant hit, a crowd-pleaser. I haven't ever posted a veggie burger recipe here (strange since the only burgers I eat are veggie!) No better moment than spring, a time of birth and rebirth, to introduce my first veggie burger…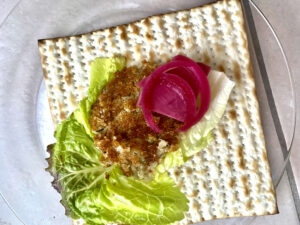 Ingredients to serve 4-6
1 cup navy or cannellini beans, soaked for 6-12 hours (or one 15-ounce can)
1 postage-size piece of kombu (kelp) if using dried beans
1 cup dry quinoa, washed 3 times
1 cup matzah meal or blanched almond flour
1 medium yellow onion
1 small orange, yellow or red bell pepper
1 teaspoon chili pepper flakes
1/2 teaspoon ground sage
1/2 teaspoon sea salt
fresh ground pepper, to taste
1 bunch fresh basil, chopped
1 bunch fresh parsley, chopped
1 tablespoon olive oil
4 tablespoons grapeseed or safflower oil for frying
Garnishes shown here: lettuce, turnip and red onion pickles
Process
Prep ahead: you can cook the beans and quinoa a day or two before.
If using dried beans, drain them, discard the soaking water and place in a medium-sized pot. Cover with water, with 3 inches to spare, add a small piece of kombu (kelp) and bring to a boil. When boiling, lower heat to low and simmer for about one hours, until beans are soft.
Once beans are cool, use an immersion blender or a blender to blend them into a paste.
Cook the quinoa: place the well-washed quinoa in a pot with 1 3/4 cups water, a pinch of sea salt, the sage and chili pepper flakes. Bring to a boil. Then cover and simmer in a low flame for about 15-20 minutes, until soft and moist. Let sit undisturbed in the pot for about 20-30 minutes, then transfer to a glass or ceramic bowl and allow to cool.
Dice the onion and bell pepper. Heat a medium skillet on a medium flame for 30 seconds. Add the olive oil and heat for a minute. Add the diced onion to the pan. When they begin to soften and become translucent, add a pinch of coarse sea salt. Add the diced bell pepper and sauté together until the onion is a light golden brown and the pepper is soft. Turn off the flame, remove from heat and cool.
In a large bowl mix the bean paste, cooled moist quinoa, sautéed onion and bell pepper, matzah meal (or blanched almond flour),  chopped basil and parsley, sea salt and pepper to taste. Mix well and adjust texture as needed to form into burger patties. You may need to make the mixture a bit more dry by adding more matzah meal or almond flour.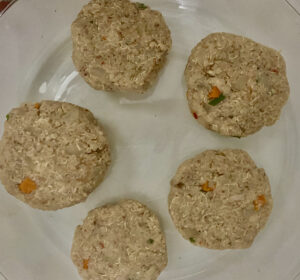 Heat a large cast-iron (I prefer this because it is naturally non-stick) or stainless skillet on a medium flame. Add some grapeseed or safflower oil to coat the bottom of the pan and heat for 30-60 seconds. Now place the burgers in the pan and cook until golden brown on one side; flip. Serve with all your fave burger fixins. Shown here: burger on lettuce garnished with turnip and red onion pomegranate pickles (recipe from my friend Oded Halahmy from his soon-to-be-published cookbook).